RECALL
RSD deserves an ethical school board.
Welcome
This recall is an effort to send a clear message that the voters of the Richland School District expect their representatives to act ethically, lawfully, and in the best interest of the Richland School District. Directors Audra Byrd, M. Semi Bird, and Kari Williams knowingly violated the law when they voted to go mask optional, and have often demonstrated poor judgement in the execution of their duties as elected officers. The recall was organized because Richland School District voters have a right to decide whether Directors Byrd, Bird, and Williams should remain in office.
Latest Information
May 19, 2023 - PRESS RELEASE FROM THE BENTON COUNTY AUDITOR:

Elections Division staff appear to have validated enough signatures for each of the recall actions for Richland School District – Director 1,3 & 4. Work will continue on Monday to finalize the remaining signature verification. Election staff will not be working on the petitions on Saturday, May 20th. The Benton County Auditor anticipates completion of all 3 petitions and issuance of Certificates of Sufficiency, setting the official date of the election by the end of the day Tuesday, May 23rd.
What happens next?
The recall will be added to the August primary ballot. If a majority of votes (50 percent plus one are in favor of recall, the director is immediately recalled and discharged from the office.
What happens if all three are recalled?
On a five-seat board, two directors are not enough for a majority. To make a majority, the board of Educational Service District 123 (of which RSD is a part) would appoint someone to fill a seat on the Richland School Board. The ESD appointee would help the remaining two to appoint a third member to the Richland School Board then step down. Then, with three directors on the board, there would be a majority and the Richland School Board could appoint members to fill the remaining seats. The details are given in RCW 28A.343.370-Vacancies.
---
What is the recall about?
This recall is not about masks nor is it a partisan issue. The recall is about elected officials being held accountable for unlawful actions they took while in office.
On Tuesday, February 15, 2022, Richland School Board Directors Audra Byrd, M. Semi Bird, and Kari Williams participated in a special meeting, held a vote that was not included on the meeting agenda, and took the final action of making masks optional in Richland Schools, effective immediately. In doing so, they broke several Washington State laws and violated their oaths of office.
Video of the February 15, 2022 Special School Board meeting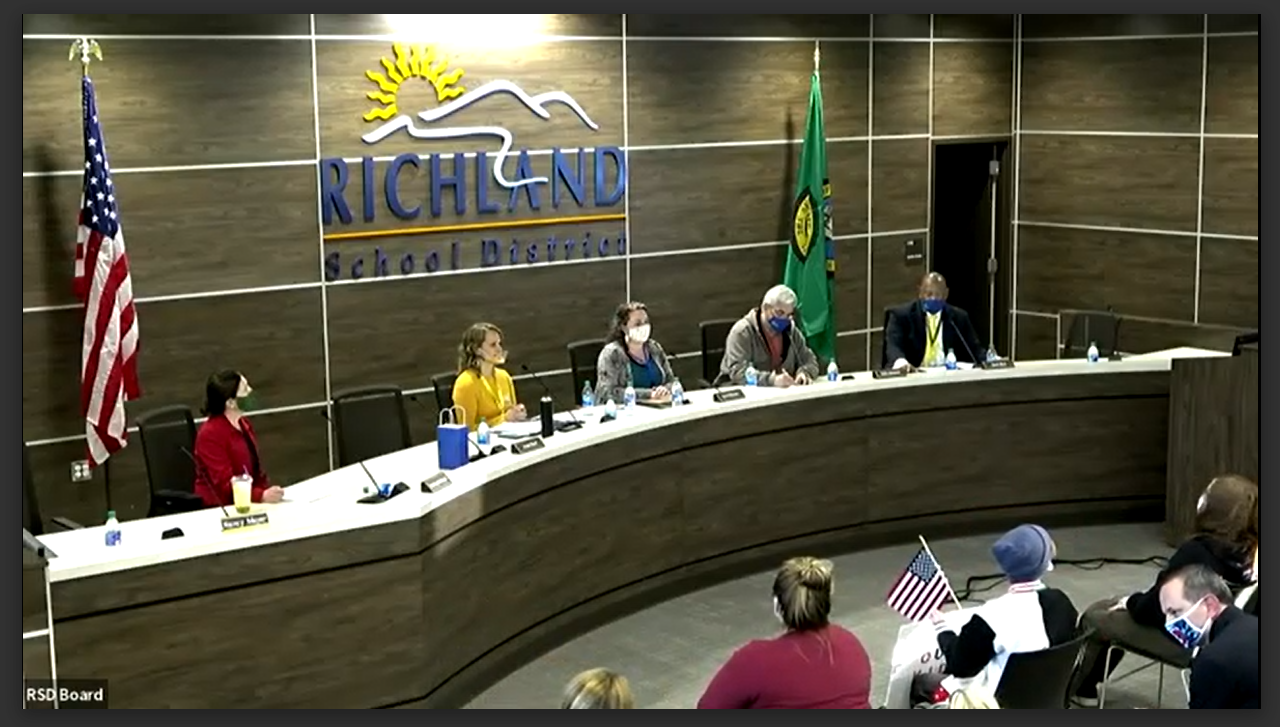 Four days before that meeting, Washington State Superintendent of Public Instruction Chris Reykdal said in an email:
"Until the statewide mask mandate is eliminated, it continues to be a willful violation of the law to enact board policy or explicit practices that remove masking or allow for noncompliance within your buildings."
There is evidence that the three collaborated before the meeting to plan for taking the vote, which is in violation of RCW 42.30, the Open Public Meetings Act.
The recall was initated April 11, 2022. It was reviewed by Benton County Superior Court Judge Norma Rodriguez on May 9, 2022 and allowed to proceed. Directors Byrd, Bird, and Williams appealed her decicion. On February 9, 2023, the Washington State Supreme Court concluded that the recall petition was "legally and factually sufficient" and signature gathering could commence. The Supreme Court opinion was published April 27, 2023.
---
This page was last updated: